IN HER SHOES: PEACOCK FEATHERS
Everytime I log on to read a post over at Peacock Feather I know that me and Elizabeth and meant to meet and better much be besties for ever and ever. She loves color just as much as me and she isn't shy about it. Her home is full of all of these amazing finds. I love seeing all of her little figurines throughout her home. Plus it doesn't hurt that I have a bit of soft spot in my heart for Peacocks!
If you haven't "met" Elizabeth before it's high time that you do! She is an event planner that lives in Philly and one of her most recent clients is her herself, because she is newly engaged!
So sit back, relax and enjoy a day in Elizabeth's shoes.
P.S. Elizabeth it's totally meant to be. I even have the same scarf as you in the picture below!
________________________________________________________
8:00 a.m.
Wake up time. If I don't have to be anywhere early, I'm up around 8 a.m. I head straight down to the living room, where the sofa serves as my morning office. I like to watch reruns of "West Wing" on Bravo while I check email and attempt to post to my blog Peacock Feathers. Today I have a number of clients to touch base with though, so I spend an hour or so discussing wedding plans and other details for their upcoming events. After 8+ years working as an event coordinator for museums, I recently made the leap to become a freelance event consultant - planning weddings and also working with non-profits on their fundraising galas. It's a particularly busy time for me right now, and I feel very fortunate.
So here's my pile of binders and agendas - am I the only person who thinks stylish stationary items make work more fun? The binder is from one of my favorite lines, Russell + Hazel, and the adorable striped books are from the French Bull collaboration at Target. Love! Oh, and I am obsessive about having a fully stocked pencil case with me wherever I go. I keep pens, highlighters, Sharpies, my Hello Kitty flash drive, post-it notes and paper clips in this stripey zip case. Seriously, it's a life saver!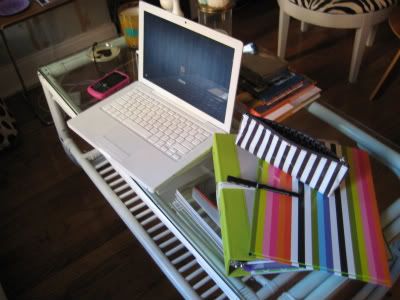 9:15 a.m.
With my priority calls made, I take a quick shower... my kitty Radius likes to come in the bathroom with me so he can drink water from the faucet. He's so strange, but its kind of nice to have a little creature to chat while I get ready to start my day.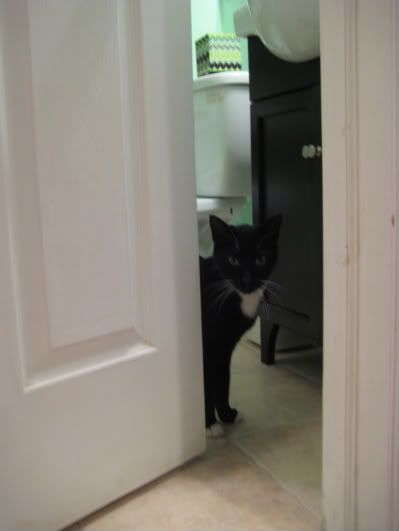 With my hair still wet, I'm back in the living room - this time taking photographs of my recently-framed wedding save the date. It's been complete for a while now, but I haven't had a chance to share it with my readers. Taking pictures for my blog is always a process - I'm not an accomplished photographer by any means, so it takes a lot of time for me to get the lighting and composition right. I'm particularly frustrated this morning, but finally get some that are decent enough to post.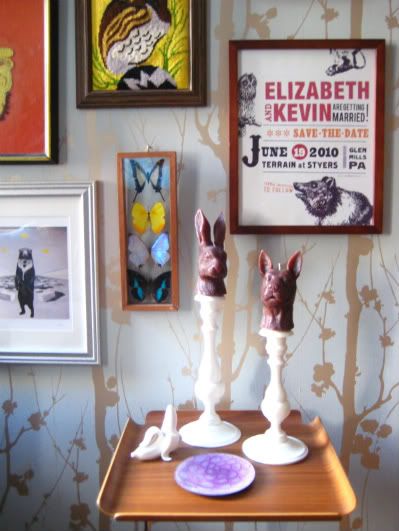 I finally feed all the cats - yikes, I made them wait a long time! We have three indoor cats - Bayliss, Roxie and Radius - and then three stray cats - Maud, Clarence and Brownie - that hang out on our stoop. My fiancee is not loving the whole impromptu cat shelter thing I have going on right now, but I can't help myself.
Two hours later - ha, more like fifteen minutes - I head up to my bedroom to get dressed. The hair and makeup isn't much of a process, but I take a long time getting dressed. Which is funny because I have a sort of uniform - or maybe more like a formula - that I use pretty much every day. And this is it: a dress cinched with a belt, topped with a cardigan or little jacket, plus some kind of legwear, heels, lots of jewelry, and a big scarf. If it's not as dressy of a day, I'll replace the dress with destroyed khakis from Madewell rolled at the ankle (I bought three pairs off their clearance rack for $10 each - score!) Today, I follow the rule - black utility dress from Anthro, grey drapey cadigan, brown leather belt, and argyle ankle socks with my Louboutin t-straps. Just like yesterday, only different! Here I am with the complete look...
And the shoes... the column is called "In Her Shoes," right?
And the ridiculously messy dresser I stare at every morning...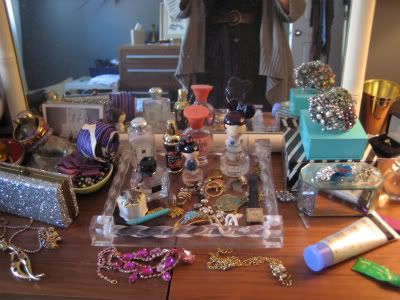 Finally out the door! This is Maud hanging out by our potted fir tree. She's missing one ear and half her tail, but she is sweet as can be...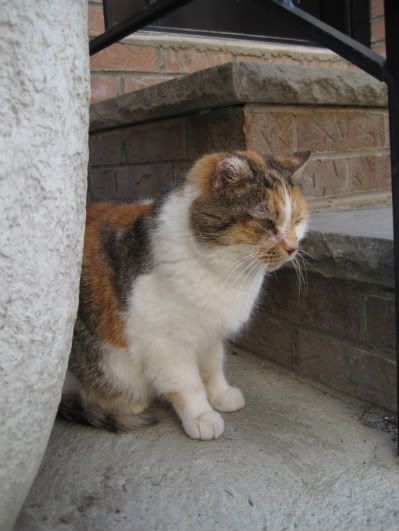 I've hoofed it in my heels the eight or so blocks up to Rittenhouse Square, where I make a quick stop at Anthropologie to make a return. I'm not kidding, I'm at this place ALL the time.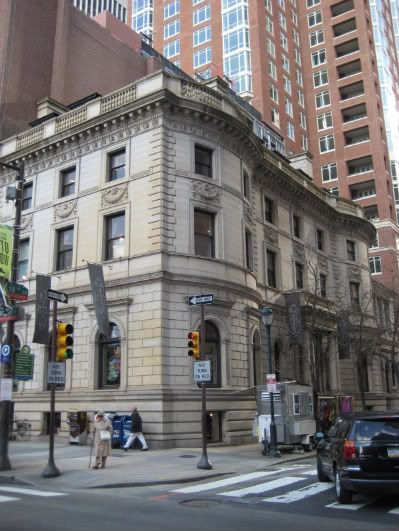 Today I'm trying to be good though - so I go straight to the register and return the grey houndstooth coat I ill-advisedly purchased last week. Not even a breeze by the sale room. I'm feeling strong. And then, a tiny glass case by the checkout with an even tinier sale sign catches my eye. Damn you, Anthro! I leave with a vintage poodle pendant (marked 75% off) featuring a hinged head that opens to store pills or, perhaps, secret messages. Check him out...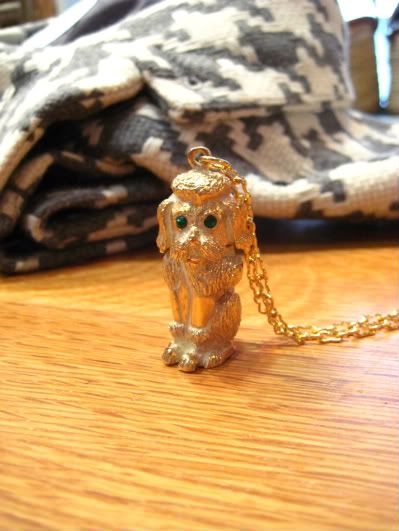 Lunch is next... Qdoba again. Another place where the employees know me by name. I'm having my usual bowl of rice with grilled chicken and black beans, topped with a poblano pesto sauce. So yummy, and it keeps me going the rest of the afternoon. Yes, by the way, this is the first thing I've eaten all day. Good eating habits should have been on my list of New Years resolutions.
I make it to my appointment on time. Thank goodness. Today I am in the city all day, which is great. I recently got a car (my first in almost fifteen years!) in order to commute to my consulting jobs. It's amazing the freedom that comes with having a car - being able to make a Target or grocery store run whenever I want is very liberating. But today I am traveling on foot, and that's fine with me.
The next couple hours are spent discussing an upcoming wedding - location, catering, logistics, etc. So much of event planning is organization - I love my job completely, but it's definitely not all about picking out tablecloths and pretty flower arrangements. Most of it is about keeping lots of people on schedule, making sure things happen when they are supposed to. And it's a great thing seeing an event come together, to see the finished product, and of course, to have a happy client!
After a quick meet-up with my friend Ingrid to give her a baby gift (a pair of Ralph Lauren silver leather ballet flats - even baby girls need at least one special pair of shoes!), I'm back home to work from my real office. It's a bit of a mess, but at least it's a colorful mess. I make more phone calls, and draft an agenda for a weekly meeting I'm involved in. That document is sent out to all the participants, and then I'm done for the day. Yay!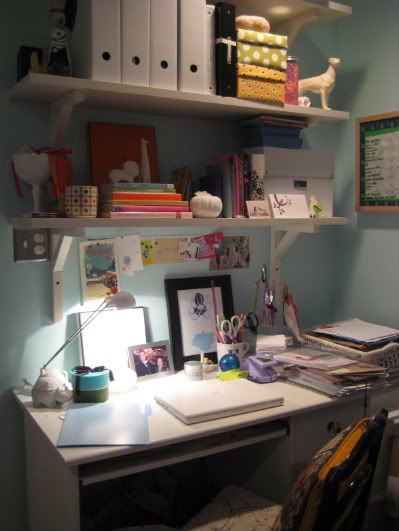 The fella comes home from his hard day at work. Here he is on the job (ok, not quite, but it's a pretty good representation...)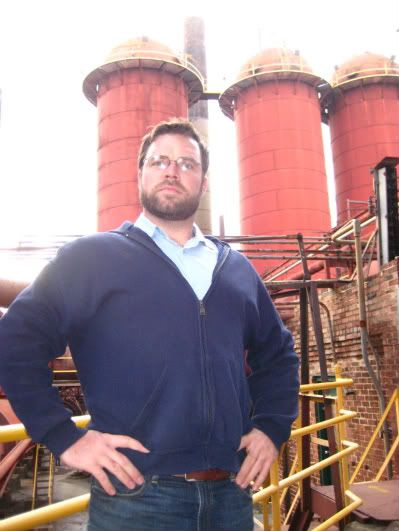 I'm happy to see him, and happy to get ready for our night out. We are meeting Ingrid and her husband Gabriel- this time for dinner at the extremely lovely restaurant, XIX, which sits atop the Bellevue Hotel here in Philadelphia. It's Restaurant Week, which means many restaurants are offering three course dinners for $35. At a place like XIX, that's a bargain. For the special occasion, I'm going to wear my tiny top hat hair piece that I got at Nordstrom. It has feathers and a little dotted net that comes over the eyes. It's very jaunty I think!
Kev and I head over early so we can get a drink in their dark and dramatic bar. He has a Manhattan, and I order a "Mexican Mojito." It sounds better than it tastes though - too sweet, no ice, yuck. Once our friends arrive, we head into the dining room, which is literally dripping with strings of pearls (an enormous lighting installation that is pretty "oh wow"). I order a glass of pinot noir... much better. As for dinner, it is much more elegant than lunch - I have the Hudson Valley foie gras with spiced brioche bread pudding, braised rabbit bolognese over homemade tagliatelle pasta, and chocolate pecan pie with salted caramel ice cream. Definitely not a typical-night-kind-of-meal! Everything is so delicious, but the company is even better...
The night is over and it's time to head home. We walk the twelve or so blocks back to our house - I wanted to take a cab, but the air is nice and not too cold so we decide to hoof it. Kev heads to bed, but I stay up a little bit longer. While flipping between "Law and Order: Criminal Intent," "Clean House," and "Millionaire Matchmaker" (quality programming indeed!) , I spend some time coming up with ideas for my blog and readying myself for the next day. Tomorrow will be busier, as I will be working at my client's office, so it's definitely time for bed.
And it's lights out!
Thanks so much to Camila for inviting me to participate in this great series! I've been a fan of her blog for a long time, and am honestly flattered that she would include me with this great bunch of ladies she's featured. Thanks again, Camila! This has been a treat...
A big thanks to Elizabeth! So much fun to see a day in your amazing shoes! I'm now heading off on a jet plane... for my much needed vacation! I'll be back on Thursday! Don't worry my pets I stayed up way late last night (2 am to be exact) to make sure I left you with with amazing blog content! So posting will resume like normal!
Labels: In her shoes