Baby Halpert arrives tonight!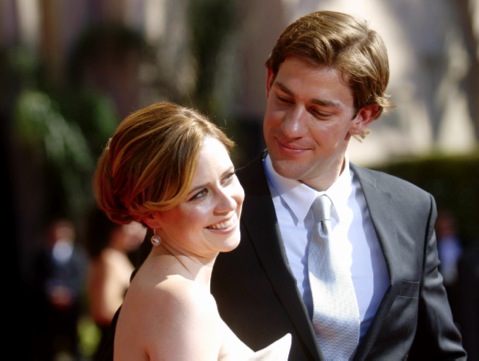 I know that Jim & Pam aren't actually "real" people, but here in Camila land they totally are.
I loved watching their relationship grow, cried when Pam turned him down during casino night, cried angry tears when Jim started dating Karen, cried with joy when Jim ditches Karen in NY and finally asks Pam on a date, cried again when I found out Pam was pregnant, cried and danced at their wedding, I swear I could go on and on.
By now you are totally in agreement with me or you've decided that Camila land is a little too much for you today.
Tonight the sweet folks at NBC who provide me with my portal that catch's me up on Jim and Pam via The Office will be showcasing the arrival of Baby Halpert!
Now while I'm super excited to find out whether they'll be graced with a boy or girl the designer in me wants to see the nursery.
Do you think think you'll go a bit modern a la Jenna Lyons:
Clean, causal and gender neutral like this design from M Design:
Flower power done in matter that it would work for a boy or girl via Sarah Richardson:
Hipster Chic via Canadian Family:
Loving this completely GREEN nursery by Amanda Moore:
My personal favorite? Effortlessly Chic. Love the neutral walls, the pop of blue in the window treatments, white trim and variety of patterns on fabric! Perfect by Angie Hranowsky.
What direction do you think they'll go in? They better show it!
I know what I'll be doing this evening. Anyway else joining me?
* Don't forget to enter my latest Olympic Paint give-away!
Labels: design advice