Give-away: Olympic Paint!
Since I'm getting to the very close stage of finally being finished with my professional site my weekends have been spent finishing many home projects to finally get my rooms camera ready!
I know I'm not the only one up to my ears in home projects so with the help of my pals over at Olympic Paint that is available at Lowes I will be giving away lots of paint!
To be exact HHFITD will be giving away 2 gallons of your pick of Olympic Paint in any finish.
Now the key to successful painting is in the prep work before and that means priming the walls first! So, part of this give-away is also 1  gallon of Olympic zero VOC primer!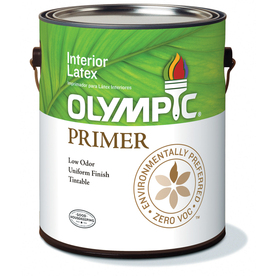 One lucky reader will win all 3 gallons!
Here is what you need to do to enter:
- Make sure you are a HHFITD follower.
- Go onto to Olympic and pick out what paint color you would want.
-Come back here and leave a comment and let me know what your pick is.
- If you want to enter twice then make sure to give this give-away a shout on your blog.
-Want to enter three times then make sure you also tweet about it!
* Remember anyone can enter! Just make sure if you don't have a blog to add your email address in your comment.
This give-away is open until Sunday, March 7th midnight EST. 
Labels: give-away